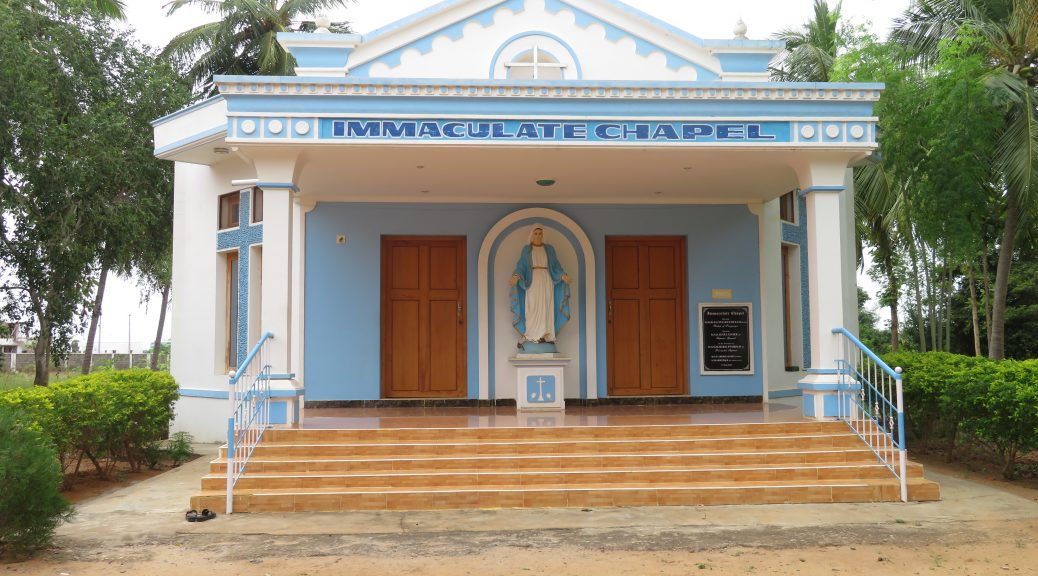 CIC_ SIVAGANGAI PROVINCIALTE
THE GENESIS AND THE GROWTH OF THE CONGREGATION:
The Congregation of the Immaculate Conception (CIC), Madurai, was started with four unlettered simple women at panjampatti, a small village near Dindigul
The founders of the Congregation are Fr.Julius Larmey,.S,J., Fr.Augustine Pereira    and Fr.Eugene Nespoulous.S.J
Severe famine hit the entire part of South India. People suffered and died in large numbers. Fr.Larmey, the then Parish Priest of Panjampatti, tried his best to feed the people in and around Pajampatti, tapping various sources.
The Selfless dedication of Fr.Julius Larmey,S,J., ably assisted by Bro.Augustine Pareira, in teaching Catechism and propagating the Christian faith impressed the people of Panjampatti, specially the youth. Amoneg them four young girls, Visuvasam,Viagammal,Annammal and Savariammal made a promise of celibacy and dedicated themselves to the service of God.
Later,this Congregation was shifted to,and established in,Madurai on 2nd JULY 1911.
In Continuation of this missionary zeal we set foot in Zambia (Africa) and South Africa,Italy and in Sri Lanka.
During the past ten decades, this Congregation has flourished,propelled by the Providence of God,resembling the proverbial mustard seed.
Establishment of the Province
Our Superior General Rev.Mother Mary Josefa took efforts to divide the Congregation into regions for the sake of an efficient administration. Rev.Mother Josephine Alphonsa the successor of mother Mary Josefa, made streneous efforts to change it into provinces; such as Madurai, Sivagangai and Palayamkottai. In the year of 1997 March, the region of Sivagangai was formed into province comprising of —– Communities.
Srs.Baley Margaret[ 1984-88],Sr.Romanees Mary [1988-1991] Sr.Ignatius Florence were the Regional Superiors. When the region came into being as province Sr.Motchalangaram was elected as the first Provincial [1997-2004].Followed by Sr.Motchalargaram. Sr.Celine Saleth [2004-2007] and Sr.Maria pushpam [2007-2013] were the provincials. At present Sr.Alphonse Fathima[ from 2013] renders her service as the provincial of Sivagangai Province.
We serve in the following dioceses
1.Sivagangai       2.Madurai           3.Trichy              4.Thanjavur
Salem 6.Tharmapuri 7.Kumbakonam  8.Vellore