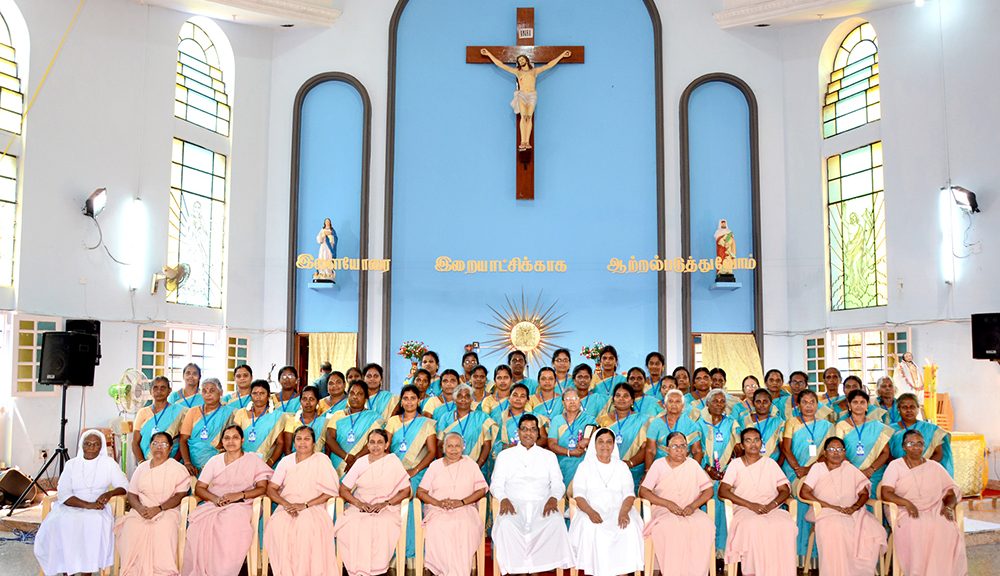 "You, brothers, must select from among yourselves seven men of good reputation, filled with the Spirit and with wisdom, to whom we can hand over this duty." (Acts 6:3)
We are necessitated to select collaborators when vocations to religious life are becoming less and less. Hence, by recruiting interested women and imparting training, we are planning to engage them as collaborators in our Parish ministries. As a preparation, on 26.11.2016 and 11.02.2017, Sr. Jeya Mary Sebastian and Sr. K. Arockiya Mary held conferences for Amala associates. Once a month, training has been given by our sisters in Ramnagar, Susaipparpattinam, Paramakudi, Thondi and Leonard House respectively.
Training sessions were held in various places for the 45 women who have volunteered to collaborate with us.
All the 45 Amala Associates have dedicated themselves on 22.04.2018 in the solemn Eucharist concelebrated by the Vicar General of Sivagangai Diocese, Fr.Lourdu Raja and the Assistant Parish Priest Fr Arockia Raja. Our Mother General, Assistant Mother General, three Provincials, councillors and our sisters participated in the Eucharistic celebration.